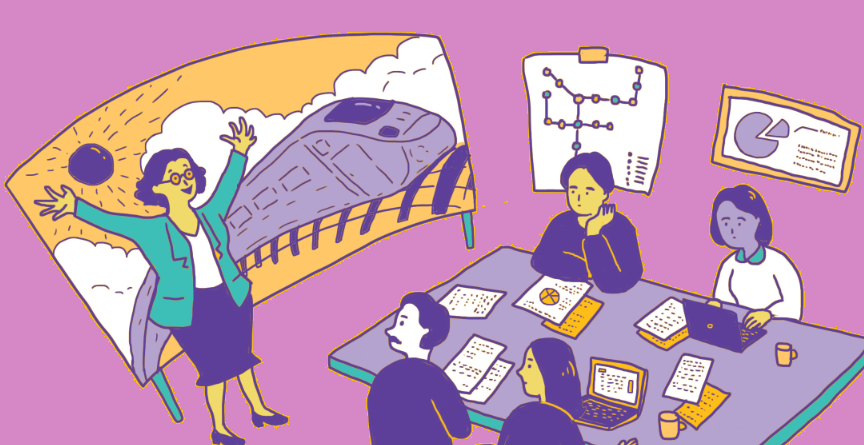 The following guide summarizes best practices for the development of local transportation referendums. Our recommended best practices are based on the insights from the following timely resources:
Taken together, the below recommendations provide clear guidance for Austin policymakers as they craft this November's mobility package.
1. Prevent insularity
TransitCenter's "Derailed" report analyzes the defeat of Nashville's 2018 transit expansion referendum. The report offers a detailed history of the failed referendum and makes three overarching, highly-relevant recommendations for Sun Belt cities, such as Austin.
The report's first major recommendation addressed the insularity of the process by which the final transit package was developed. In brief, the final package was created in a top-heavy fashion by the Mayor and local Chamber of Commerce; they relied on unrepresentative public input targeting long-term, comprehensive plans. As a result, the final package was left vulnerable to equity and effectiveness arguments targeting the African American community, which was expected to be a base of political support for the package.
The report offers the following tactics to avoid insularity:
Build an inclusive transit advocacy coalition independent from the local Chamber

Don't take key electoral constituencies for granted

Build a diverse bench of spokespeople

Define the narrative with consistent messages that clearly convey the plan's likely benefits
2. Undertake pro-active equity planning
From the "Derailed" report:
Transit investments can advance equity in a variety of ways, but the lack of public engagement and perceived over-emphasis on light rail — especially given concerns about housing affordability, gentrification, and displacement — eroded public trust, particularly among Nashvillians of color.
Integrating community-driven development of equity and anti-displacement policies alongside the selection of transportation investments can help promote community trust. In Nashville, the lack of a substantive, concrete agenda to address equity and displacement concerns allowed anti-transit opponents to fill the void.
3. Avoid haste during project selection
Nashville rushed its transit package development; this contributed to cost errors and a lack of understanding of the selected investments by grassroots advocates. The rushed process was also a missed opportunity to educate the broader electorate about the particular projects included in the proposal.
4. Adopt Spieler's transit ridership rules
Christof Spieler was a member of the Board of Directors of Houston METRO from 2010 to 2018. He is the author of the widely-acclaimed "Trains, Buses, People: An Opinionated Atlas of US Transit". During his recent visit and talk to Austin's pro-transit organizations, he identified four key rules to ensure that building transit leads to increased ridership:
Frequency is #1. Quality transit comes all day, seven days a week

Provide transit its own space (right-of-way) to guarantee reliability

Ensure transit is accessible

Draw lines between places people concentrate
5. Pass the Ellis test
At Bike Austin's recent panel discussing an Austin delegation's Amsterdam visit, Council Member Paige Ellis made the following observation about the value of active transportation being coupled with transit investments:
If we get communities that are more on the outskirts of town, that may always think "why would I pay for light rail that I'm never be able to get on", then you've got a problem. [We] need to make sure that if everybody is going to be supportive of a [transit] initiative that they are going to be able to see something in their neighborhood that they can touch and feel and see, whether it's safe routes to school, urban trail networks.
Council Member Ellis specifically mentioned how improving pedestrian infrastructure feeding into her district's Violet Crown Trail segment was an example of how active transportation investment could engender community support and boost the use of sustainable commutes.