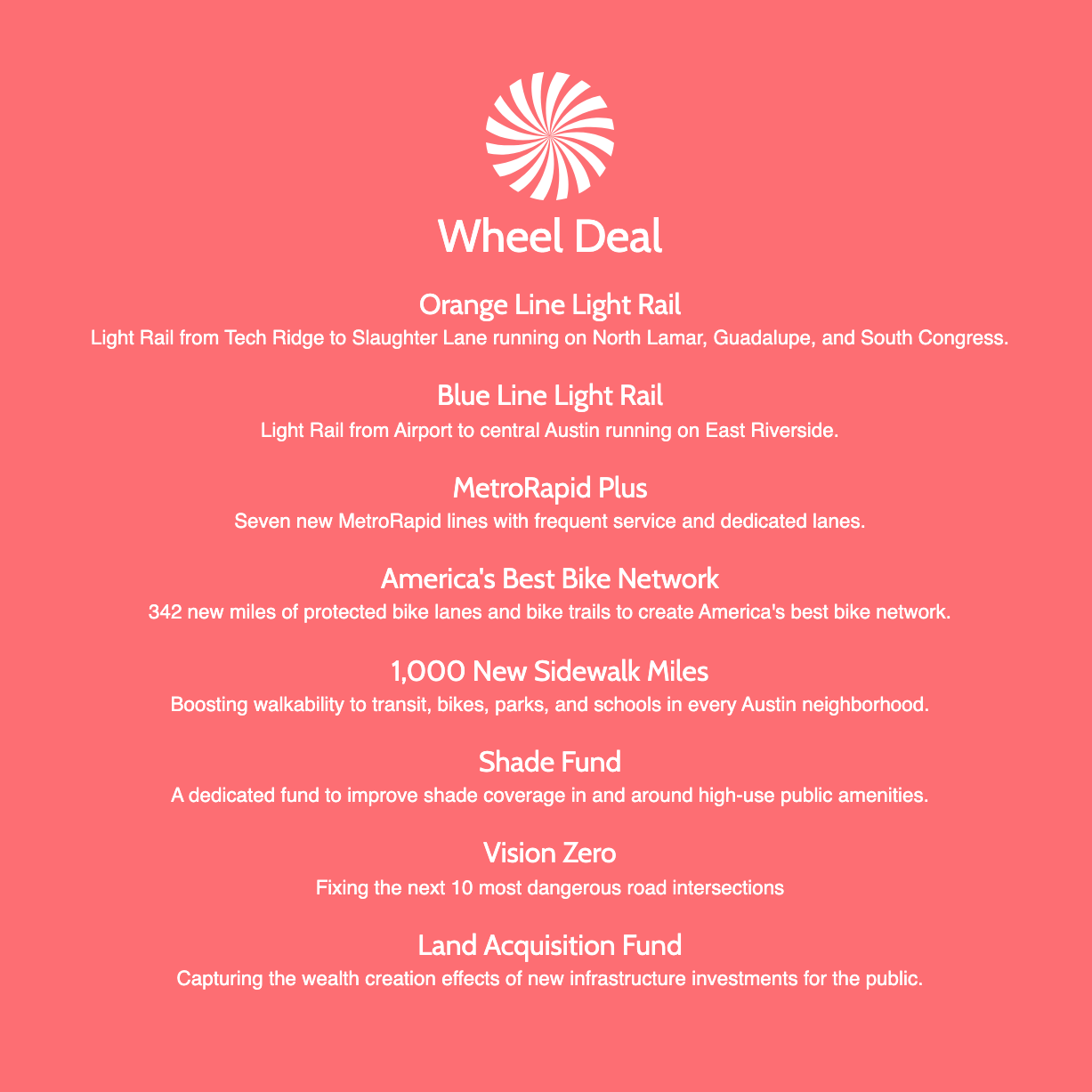 FOR IMMEDIATE RELEASE
October 21st, 2019
Austin, Texas - Today, a group of veteran community activists released the draft of a new transportation investment plan: the Wheel Deal.
The plan was crafted by Urban Transportation Commissioner Susan Somers, former Planning Commissioner Jose "Chito" Vela III, and community activist Julio Gonzalez Altamirano.
The plan comes as civic leaders and Austin City Council members keep indicating that a 2020 transportation-focused bond is likely.
"Our hope is that this plan captures the imagination and gets Austinites excited to push for a transformative package," Urban Transportation Commissioner Susan Somers said.
Former Planning Commissioner Jose "Chito" Vela III explained: "We want to move the debate forward and set a standard by offering a vision with specifics".
"The Wheel Deal features comprehensive investments in rail, buses, bike lanes, sidewalks, safety, and strategic land acquisition. It will provide Austinites with an abundance of new transportation choices while helping many families save money, all while helping the planet," Gonzalez Altamirano said.
The details of the Wheel Deal draft can be found online at: wheeldeal.org/details.
As a next step, the group will be seeking community feedback on the initial Wheel Deal draft, releasing a finalized version by November 22nd, 2019.
CONTACT INFORMATION
Phone: (512) 651-5620
Email: team@wheeldeal.org
Web: www.wheeldeal.org
Twitter: www.twitter.com/wheeldealatx