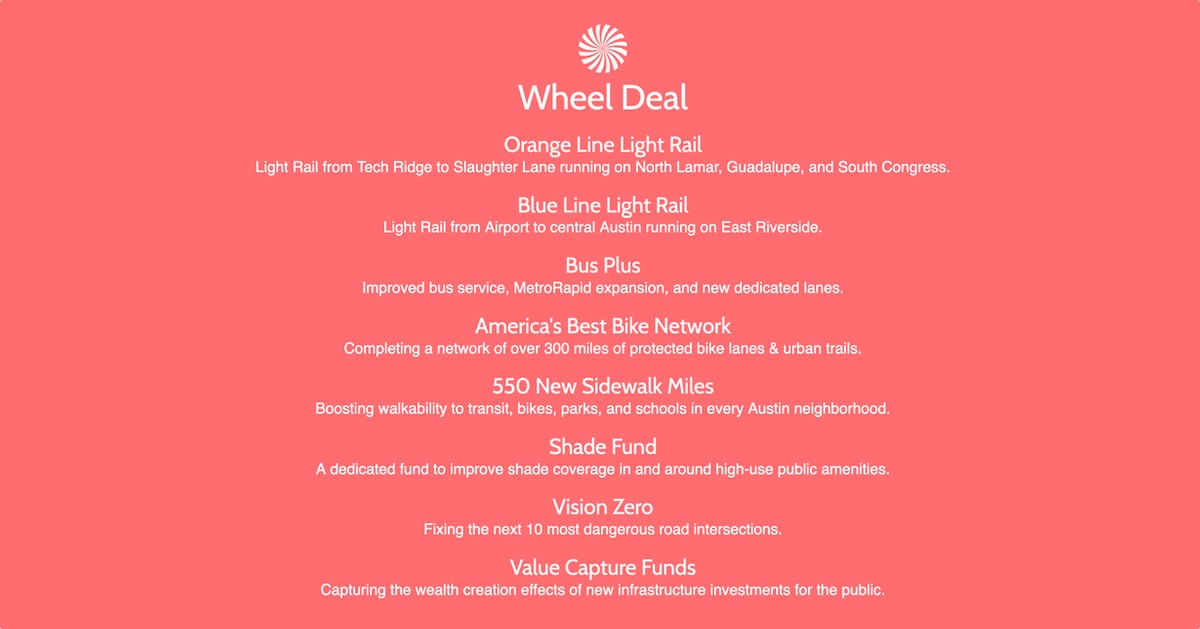 FOR IMMEDIATE RELEASE
January 8th, 2020
Austin, Texas - Today, a group of veteran community activists released the final version of the Wheel Deal transportation investment plan.
The draft version of the plan was written by Urban Transportation Commissioner Susan Somers, former Planning Commissioner Jose "Chito" Vela III, and community activist Julio Gonzalez Altamirano. The final version incorporates extensive and meaningful feedback provided by community members and grassroots advocates.
The plan comes as civic leaders and Austin City Council members get closer to starting the formal process of crafting a 2020 transportation-focused bond.
"We've improved our plan by listening to community voices. What we've put together is both feasible and transformative. It gives community members and policy makers looking for an ambitious bond proposal an off-the-shelf option that's shovel-ready," Urban Transportation Commissioner Susan Somers said.
Former Planning Commissioner Jose "Chito" Vela III stated: "I've been impressed by the quality of suggestions we received on our draft. This plan is now stronger and our community conversations are better because of it. The Wheel Deal gives community members a detailed plan to mobilize around. And now it's time we push it's ambitious vision at City Hall."
"The Wheel Deal will provide Austinites with an abundance of new transportation choices while helping many families save money, all while reducing our contribution to climate change," Gonzalez Altamirano said.
The details of the Wheel Deal plan can be found online at: wheeldeal.org/details.
Additional Resource Links
Wheel Deal Team's official response to community feedback memos
Wheel Deal Team's explanation of plan plank changes
CONTACT INFORMATION
Email: team@wheeldeal.org
Phone: (512) 651-5620
Web: www.wheeldeal.org
Twitter: www.twitter.com/wheeldealatx